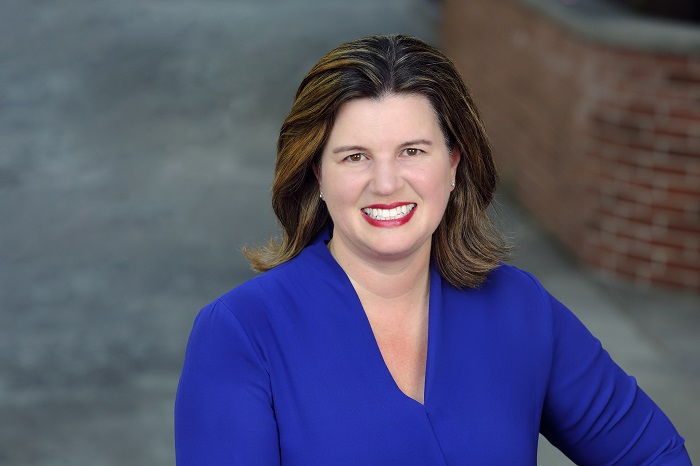 New Face, Same Service
Message from the CEO – Lena Wittler
Clark Public Utilities is in a season of change with the retirement of long-time General Manager and CEO Wayne Nelson. For decades, Wayne has led the utility with an unwavering focus on providing impeccable service, reliably and affordably. And I know that's been particularly appreciated among our largest customers who serve as the backbone of this community and our local economy.
I want to assure you that I share Wayne's, and our board of commissioners', vision and commitment to stability, integrity and transparency.
For more than twenty years I have led utility research and in the last ten years have supported all legislative affairs and public policy – so I have seen clearly what's working and have no intention of fixing what's not broken. I expect you to continue experiencing the same highest quality power and customer service as we continue our aggressive work to support operations and conservation efforts among our commercial and industrial customers.
We have an incredible team of key accounts managers, program managers and power supply professionals devoted to serving our commercial and industrial customers. I encourage you to continue to use this utility as a resource for understanding energy today and into the future, and I look forward to meeting you at the upcoming Key Accounts Forum in the Fall.
Pictured from left to right: Zeecha Van Hoose, Bart Hansen, Bill Hibbs, Larry Blaufus, Debbie DePetris
Clark Public Utilities Earns Top Marks with Key Accounts
At Clark Public Utilities we know our largest business customers operate under circumstances that set them apart from the rest of our customers.
Our team of Key Accounts Managers work hard to meet the unique needs and performance standards of commercial and industrial operations—and our efforts are paying off.
E Source has named our Key Accounts Team the nation's overall top utility in large business customer satisfaction for 2018 E Source Large Business Gap and Priority Benchmark. With a 9.1 out of 10, Clark scored well above the 8.6 average, and even outperformed participating utilities many times our size.
For the last 30 years, E Source has worked with utilities, and conducting large business customer benchmark surveys for nearly a decade.
In the latest benchmark survey, E Source interviewed more than 1,300 large business customers around the nation—perhaps even your company. They asked companies about their greatest needs and how effectively their utility is meeting them.  That information was then shared with the utilities so we can understand what's working well and find the opportunities for improvement.
Our rankings were well above average in utility satisfaction, utility value, account rep satisfaction and account rep value, and we don't take that for granted.
The study also revealed that our customers trust Clark Public Utilities as a source of energy-efficiency advice far more than the benchmark average—92 percent to about 65 percent.
Also, more than 60 percent of the responding key accounts customers said they take part in energy efficiency programs to reduce the needs and costs of maintenance and to take advantage of utility rebates or financing.
If you don't currently participate in our efficiency programs, or you have something you want to discuss, please get in touch with your key accounts manager today. We value the positive feedback that has consistently come from studies like E Source, but we also want to know how we can serve you better. Please reach out, we're listening!
Training Opportunities
Every organization wants to cut costs, boost efficiencies, and create a working environment where employees and clients can thrive. To do that, we know organizational leaders and facilities managers are working hard to stay updated on the latest evolutions in infrastructure technology. To help, we're cosponsoring two upcoming training events to explain how system upgrades, lighting controls and retrofits can make benefit your people and provide significant cost savings.
Pump System Optimization Training
October 3, 2019
7:45 a.m. – 4:30 p.m.
Boys and Girls Club
Room 135
3875 S. 66th St. Tacoma, WA 98409
Registration Fee: $139 (Valued at $815 per person)
0.7 Continuing Education Units through Washington State University may be made available for this training
*Class size is limited to 25 attendees
You may be surprised to know how hard your organization's pump system is operating – and it doesn't always have to. When pumps aren't running at their best, they will siphon off company profits with higher maintenance and energy costs, and lower reliability. In fact, the typical medium-sized plant spends more than $1.4 million per year running their pumping systems and the average pumping system efficiency is 40 percent or less. That means there's a lot of opportunity for savings with increased efficiency.
Running a better designed system at its optimum performance can mean massive savings for a company—by an average of $350,000 per year or more.
Dominik Fry, an energy industry professional who helped develop guidelines and standards for the first horizontal wells drilled in North Dakota's oil fields will explain how your pump system can be at its best.
Participants will learn how to determine objectives, identify and assess the benefits of optimization; identify, record and analyze proper performance metrics; develop and implement recommendations; and monitor post-improvement results.
This course is ideal for irrigation operators and pump system managers, operation supervisors and managers, industrial maintenance personnel, energy efficiency organizations and utility staff.
Attendees must register by Sept. 20., you can do so at: https://www.regonline.com/210neea-industrialtraining
For more information, visit: Visit http://neea.org/events or contact the training center at 888-720-6823, industrial-training@industrial.neea.org.
Best Lighting and Controls Retrofits
Oct. 24, 2019
7:30 a.m. – 4:30 p.m.
Clark Public Utilities
Education Center
8600 N.E. 117th Ave.
Vancouver, WA 98862
Registration Fee: $139 (Valued at $700 per person)
0.7 Continuing Education Units through Washington State University will be available for this training
*Class size is limited to 25 attendees
Significantly updated since 2018, this edition of Best Lighting and Controls Retrofits, explains how organizations can achieve benefits beyond cost-savings when upgrading their lighting systems. Non-energy benefits such as circadian and the non-circadian parts of Human Centric Lighting, advanced controls, certifications, environmental consciousness and lower maintenance inputs. It all starts with choosing the LED lighting system with the highest value. This step is crucial since these lights last a decade or more.
This program will teach you how to recognize the best LED products for your applications and forecast how they'll fit into future retrofits. You'll learn where controls are cost effective for saving energy and creating non energy benefits. Find out how to identify diminishing returns and how to avoid them using advanced financial tools. Discover how all of this information applies to new construction.
This program is ideal for maintenance and operational staff, facility supervisors, engineers or contractors, managers, executives, owners, consultants and energy experts or similar professionals in charge of lighting in offices, commercial stores, hospitals, prisons, schools, plants, warehouse or other large facilities.
The course is taught by Stan Walerczyk, the principal of Lighting Wizards and expert with more than 30 years of lighting experience.
Attendees must register by Oct. 10. Registration is available online at: www.regonline.com/212neea-industrialtraining.
For more information, visit http://neea.org/events or contact the training center at 888-720-6823 or industrial-training@industrial.neea.org.
Act Now Before Lighting Incentives Change
Are you considering a lighting retrofit at your facility?  If the answer is "yes", then there are some changes to the program that you should be aware of to ensure you are taking full advantage of utility incentives.
Clark Public Utilities utilizes the Bonneville Power Administration lighting tool to calculate savings and incentives. Recently, BPA released a new lighting calculator, version 5.0. While the functionality of the calculator hasn't changed, some of the incentive levels have.
Lighting incentives offered for retrofits and new construction remain strong, but the following time sensitive changes are worth noting. LED exit signs are lowered from $40 per fixture to $20. LED tubes will drop from $4 to $2 per tube. LED linear, signage, new construction, non-standard measures and decommissioning and fixture increases all drop from $0.18 to $0.13 per kilowatt-hour saved.
Finally, linear fluorescents will no longer be offered.
However, there is still time to complete lighting projects in version 3.3 and version 4.0 in order to take advantage of more lucrative incentives for the measures mentioned above.
BPA plans to retire version 3.3 on Sept. 30th of this year. As a result, projects submitted in version 3.3 of the lighting tool must be completed with all paperwork submitted to Clark Public Utilities no later than Sept. 3rd. Projects done in version 3.3 that aren't finished and forwarded to the utility for payment by that date will have to be transferred to version 5.0 and resubmitted.
Clark Public Utilities understands that change doesn't come easily for everyone all of the time, so it has extended the project submittal date for lighting calculator 4.0 to Dec. 2, 2019 to give projects time to be completed prior to the December 31, 2019 retirement date set by BPA.  Customers using that calculator must have their projects finished by that date or they'll have to transfer the work to version 5.0 and resubmit it to Clark Public Utilities.
If you have any additional questions about these project deadlines, or would like more information on how to immediately take advantage of Clark Public Utilities lighting incentives, please contact your dedicated account manager or Bill Hibbs, Commercial Programs Manager, at (360) 992-3340.
Summer Tips to Keep Your Facilities at Peak Performance
The hottest time of the year has arrived. Use this time to get your buildings heating and cooling systems running at their best—not only will this tuning keep your occupants happy, it'll help you save energy and keep costs down.
This is an ideal time of year to perform routine maintenance—based on the recommendations in your owner's manual—replace any failing parts and clean up after mother nature.
Inspect and, if necessary, replace any dirty air filters, clean intake screens, condenser coils, supply registers and return grilles.
Check the economizer. Many air conditioning systems have a damper vent called an economizer. To reduce energy costs, they circulate cool outside air as it's available with interior conditioned air, reducing the need to mechanically cool it. Sometimes the linage to the vent can break or get stuck, causing the system to fail and drive up costs.
Watch for cottonwood trees. They bloom from May to June, sending air filter-choking, fluffy cottony seeds into the atmosphere. It's wise to check your building's air filters more often through late August because cottonwood seed is a common cause of cooling system malfunctions.
Turn off heat generating equipment such as printers, computers and copiers when not in use.
Employ air conditioning only when the building is occupied. If possible, avoid cooling empty rooms.
Keep furniture away from vents to allow good circulation.
Adjust thermostats to the highest safe and comfortable setting.
Hang and maintain shades and blinds to keep passive solar at a minimum.
Use building automation system data to create a heat map and analyze peak demand times in your building. Evaluate patterns of energy use across time, look for coinciding factors across your facilities. Use that knowledge to find opportunities to reduce consumption.
Watch for warnings on equipment that can overheat.
The BetterBricks website has more information on scheduling and diagnosing common building HVAC issues, visit: https://betterbricks.com/cre-hub/#/problems-solutions/results/2809