Overview
Last year's Earth Day Fest was a huge success, with 501 volunteers planting 1,085 trees, pulling garlic mustard, picking up trash, and helping run the event. The work done helps improve water and air quality, restore salmon habitat and make the park a more beautiful place for the community to enjoy year round and wraps up our planting season. The Salmon Creek Lions Club deserves a special thanks for serving our volunteers burgers and hot dogs provided at a steep discount by Chuck's Produce, bagels and buns provided by Fred Meyer, chips from Frito Lay, and coffee from Starbucks.  In addition to the restoration portion of the day, over 1,000 people attended the free community fair featuring OMSI, Mr. Lizard's Mobile Zoo, Recycleman, bluegrass music by Jeff Donovan, and fish releases with Columbia Springs. We couldn't put on this fair without the support of sponsors Clark County Clean Water and Clark County Parks, C-Tran, TwinStar Credit Union, Renewal by Anderson, Sunbridge Solar, Yoder Chiropractic Center, and Jacobs. Volunteer Peter Taylor provided some excellent photos from the event which you can check out on our Facebook page.
Check back for details about this year's event!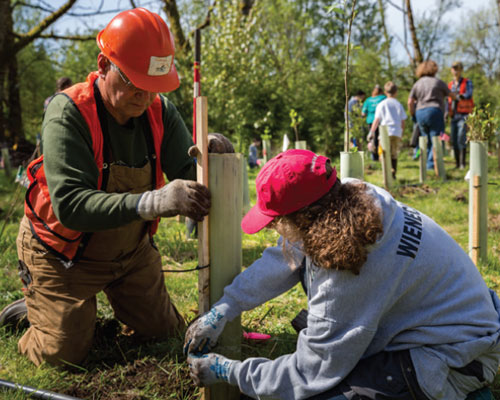 What to Expect
Planting runs from 8:30 a.m. to 12:30 p.m., followed by lunch and the fair. The festival runs from 10 a.m. to 2 p.m.
No experience is necessary, training and tools will be provided. Experienced volunteers can sign up for leader training and lead a team of planting volunteers at the event. Dress for the weather. Prepare to get a little muddy, if you're planting. A limited supply of rubber boots and gloves are available for volunteers, but bring your own, if you have them.
Be a Vendor
Showcase your products and services at an established and popular community event. Each year, the Earth Day Fest draws more than 1,000 attendees. Business sponsors are included on signage, newsletters, website and more.
More information about event setup will be available soon.
Sign up to be a vendor here.