StreamTeam Update
Planting season is coming! Make a Difference Day, which will be on the 22nd of October, is coming up fast. If you haven't registered yet, check the links in the volunteer events section! This event marks the beginning of our planting season. We have been working hard to prepare the site for volunteers to help revegetate the site with trees and other plants. We look forward to seeing all of you at Make a Difference Day or our other volunteer opportunities!
We also have been lucky enough to start student tours again! Our team has been preparing fun demonstrations to show how important it is to keep our watershed clean.
Welcome to AmeriCorps!
Benjen Lilly is our Invasive Species Technician. He is from Southern Idaho and recently graduated from Eastern Oregon University. Benjen obtained his undergraduate degree in sustainable rural systems. As part of his degree, he undertook various internships for organizations dedicated to managing natural resources. During that time, Benjen developed a passion for learning and working with streams and wetland ecosystems. After graduation, he spent the 2022 summer working for Idaho Fish and Game on their seasonal snorkel crew. There, he was able to swim around with the salmon, see their habitat and be part of their life journey. Benjen knew he wanted to continue to working with salmon. He wanted to improve rivers and streams to ensure these incredible keystone species could continue providing their numerous ecosystem benefits. When not trying to save salmon, Benjen enjoys swimming, rock climbing, roller blading, hiking, and pretty much anything that gets him outdoors.
Welcome to AmeriCorps!
Kendra Cutler is our Restoration Events Coordinator. Kendra moved here from Delaware and just graduated from the University of Delaware with a bachelors in environmental science. She can't wait to start helping with events and to meet all the wonderful volunteers. Kendra loves seeing the difference we can make when we all work together. She is super excited to start exploring all the cool hiking trails around the area. Her other hobbies include running, painting and yoga.
Photos by Walter Siegmund: Top photo is red huckleberry close up. Bottom photo is red huckleberry in the fall when the leaves turn red.
Native Plant Spotlight: Red Huckleberry (Vaccinium parvifolium)
Happy fall everyone! This month for our native plant spotlight we chose red huckleberry (Vaccinium parvifolium). This plant really gets into the spirit of the season by turning its leaves a beautiful red color. You can most readily find this plant in moist areas where there isn't too much tree cover, such as along the forest edges. These plants are in the same family as blueberries, and like their more famous cousin, red huckleberry also produces small edible berries. As you might have guessed, the berries are red and have a tart flavor. Some have described the taste as similar to cranberries. Though you might not have too much luck finding the berries this late in the season (check back next summer!) you can still enjoy the splash of color they add to the green forests they grow in. These plants are important players in the ecosystem. In the summer months their flowers are used by pollinators like bees and butterflies. In the winter months when the leaves are gone this shrub is a great food source for big game mammals like elk, deer and mountain goats. This amazing plant can even be a great addition to your home garden! It's very versatile and enjoys full sun to full shade areas with moist to dry soil. As long as the soil is well drained this plant will grow and become a wonderful benefit to the native animals around you. (Bonus points because you get to eat the berries, too!)
Creature Feature – Salmonids
To celebrate the spawning salmon in our streams and rivers, last month we put together a little quiz to test your salmon savvy. Check your work here.
1. What is a nest of fertilized salmon eggs called? A Redd!
2. How many species of Pacific salmon are there? Five! Chinook, Sockeye, Coho, Pink and Chum
3. How many species of salmonid trout? One! Although there are two types – Steelhead that migrate out to sea and Rainbow trout that do not.
4. What is the word for an organism that spends part of its life in freshwater and part in saltwater? Anadromous.
5. What do salmon eat? Plankton, Insects and other invertebrates. At sea, they will also eat small fish and even squid.
6. What's the best way to eat salmon? There's no wrong answer here!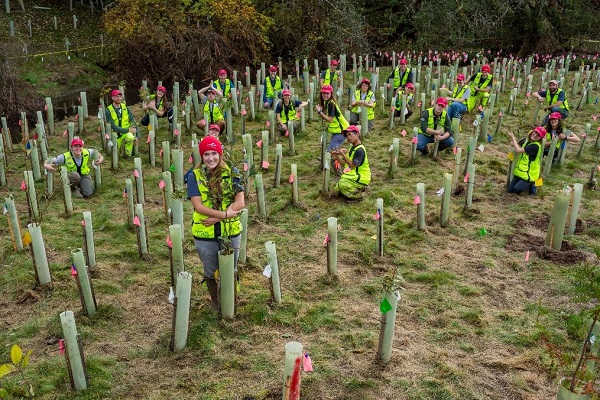 Events
Make a Difference Day
The event we have all been waiting for is finally here! This month join us on October 22nd from 8:30 a.m. – 1 p.m. to help plant hundreds of native trees with our team. We are lucky enough to have this event fully in person for the first time since 2019. We are so excited to see new and returning volunteers come together to make our community and watershed cleaner. The trees we plant will help with everything from the salmon in the creek to the air we breathe. We will provide the training, equipment, snacks, lunch and lots of fun throughout the day. If you have not registered for this event yet, what are you waiting for!? The link is right here and also pasted down below. We are super excited to host this and cannot wait to see you all.
https://www.eventbrite.com/e/streamteam-make-a-difference-day-celebration-tickets-404288286147
Composting Workshops
Want to learn how to compost? Sign up for these virtual workshops. There are two this month both on Wednesdays from 7 – 8 p.m. The backyard composting virtual event will teach you the basics on composting and how to build one yourself on October 12. The other composting workshop will teach you how to compost with worms! By registering for this event you are eligible to receive the supplies for free. The Worm Composting workshop is a virtual event that takes place on October 26 from 7 – 8 p.m. These events are great if you have a home garden because you can make your own fertilizer with food that would end up in the trash. The links for both are available below.
Backyard Composting -Public Workshops (clarkcountycomposts.org) 10/12
Red Worm Composting -Public Workshops (clarkcountycomposts.org) 10/22