Overview
Looking for a fun opportunity to make your world a little bit greener, spend time in the great outdoors and partake in fun for the whole family?
Join us for the Earth Day Fest Saturday, April 20 hosted in partnership by Clark Public Utilities StreamTeam and Clark County Public Works. Hundreds of volunteers will be on site planting native trees and pulling weeds followed by an entertaining and educational Earth Day fair that is free and open to the public. The fair features hands-on games, raffle prizes, OMSI activities, Watershed Reflections art contest, interactive storytelling and even amphibians and reptiles! Volunteers must register in advance and will receive morning snacks, a T-shirt and lunch. Register here: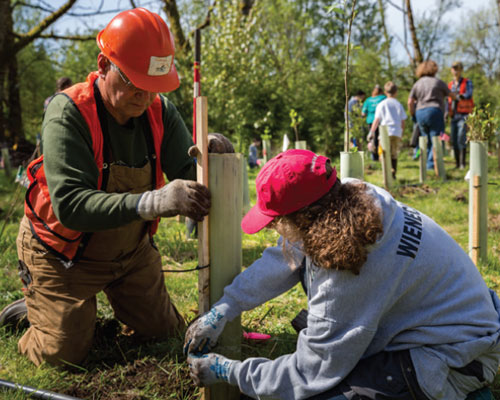 What to Expect
Planting runs from 8:30 a.m. to 12:30 p.m., followed by lunch and the fair. The festival runs from 10 a.m. to 2 p.m.
No experience is necessary, training and tools will be provided. Experienced volunteers can sign up for leader training on April 13 and lead a team of planting volunteers at the event. Dress for the weather. Prepare to get a little muddy, if you're planting. A limited supply of rubber boots and gloves are available for volunteers, but bring your own, if you have them.
Be a Vendor
Showcase your products and services at an established and popular community event. Each year, the Earth Day Fest draws more than 1,000 attendees. Business sponsors are included on signage, newsletters, website and more.
Event setup runs from 9 to 10 a.m. the morning of the event, or Friday by appointment.
A table, two chairs and space under a tent will be provided. Sign up to be a vendor here.
Entertainment Schedule
8:30 Planters Arrive
9:15 Planting Welcome/Group photo
10:00 Welcome/Sing along with Recycleman
10:45 Mr. Lizard's Mobile Zoo
11:45 Jeff Donovan Banjofied-Bluegrass
12:30 Planters return from the field
12:45 Radical Reactions with OMSI
1:45 Watershed Reflections winners
2:00 Closing remarks